Discover Wonder

In 2015, after a brief engagement with an outside brand consultant, Atlas Obscura's new visual identity was brought in-house to be refined and extended. I led the cross-team redesign process and developed an identity system that could evolve over time to suit the many facets and changing needs of a growing brand.
An explorer stands atop wreckage of a US Navy DC-3 plane in Iceland, discovered through Atlas Obscura.
The Atlas Obscura brand mark.
Brand Foundations


As with any brand design project, creating a set of brand guidelines seemed immediately essential, yet the underlying principles that defined Atlas Obscura's outlook were elusive. Employees and users alike seemed to have an intrinsic understanding of what the brand was, but no one could succinctly define the connective thread that drew together the company's diverse facets.

Through interviews, observation, and hands-on experience I was able to define the brand's foundational attributes concretely without limiting the incredible diversity of voices the company represents. The brand's unifying principles were expanded and further defined in the brand guidelines and would act as a springboard for new ideas or to validate new initiatives at their conception.
The distillation of Atlas Obscura's brand values.
Brand Guidelines


While a small design team could keep the reins on the brand's visual identity, a rapidly growing company needed a unified resource that could not only guide the ins and outs of a brands implementation but serve as a guidepost for new and veteran employees alike.

Foundational principles and tactical guidelines for the brand's visual implimentation were drafted and assembled in a living document made available to all employees and brand partners.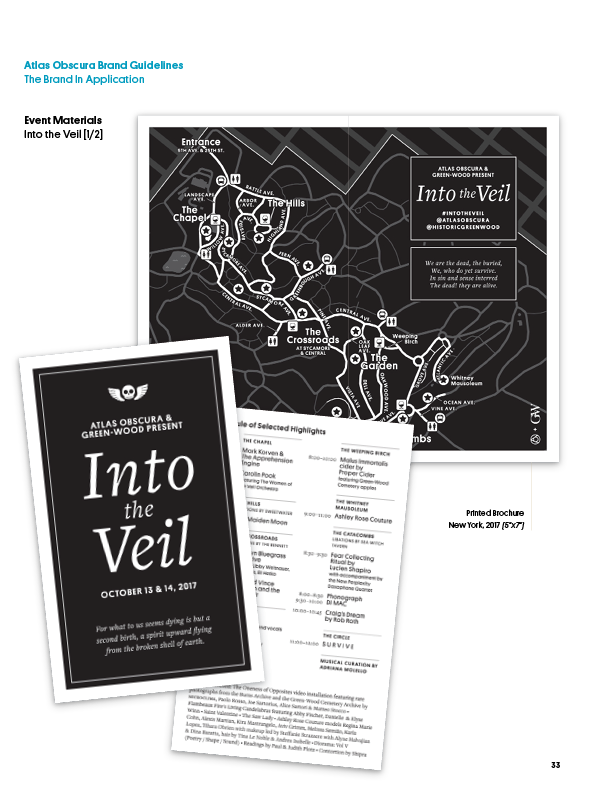 Sample pages from the brand guidelines document.


Atlas Obscura's first book, published by Workman Press.
Brand Extensions

Atlas Obscura's growth allowed for plenty of experiementation and variation within the brand's visual implimentation. The spirit of the law defined in the brand guidlines became the binding thread wove together diverse visual outputs created for the many facets of the company. A shared vision and eye toward craft pushed the company toward a cohesive visual style across platforms and media channels, creating a strong and united brand presentation.